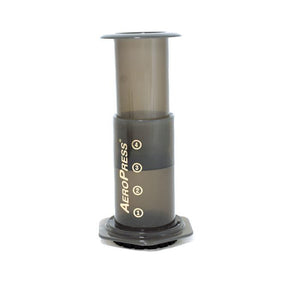 Red Landtern Coffee Co.
Aerobie Aeropress
Regular price
$42.00
$0.00
As the AeroPress (or "big coffee syringe" as one of our customers calls it) is an exceptionally forgiving and consistent way of making great coffee and is particularly useful for travelling and/or workplace java breaks.
It is effectively a big BPA free plastic syringe with a filter at the end instead of a needle and it makes around 250ml (8oz) of coffee per serving. You can also make a stronger coffee solution and dilute if you so desire but, whichever way you choose, it takes less than a couple of minutes to make a delicious cup of coffee and is really easy to clean.
The AeroPress comes bundled with everything that you need (apart from the coffee and a grinder) to get started:
AeroPress
Stirrer
350 filters
Filter holder
Coffee funnel (We also use it as a stand)
Scoop
---
More from this collection